Representative Jordan Puts Pfizer on Tight Timeline to Produce Evidence of Collusion with Executive Branch and Social Media
By Peter A. McCullough, MD, MPH
The noose is tightening around Pfizer's European veterinarian CEO Albert Bourla. He has not faced a single hard question on the Hill but finally has received a request from House Judiciary Chairman Jim Jordan (R-OH) to produce documents and contacts on how the pharmaceutical giant colluded with the Executive Branch and social media companies (Twitter, Gettr, Facebook, Telegram, Instagram etc.) by weaponizing "misinformation" in order to push mRNA vaccines.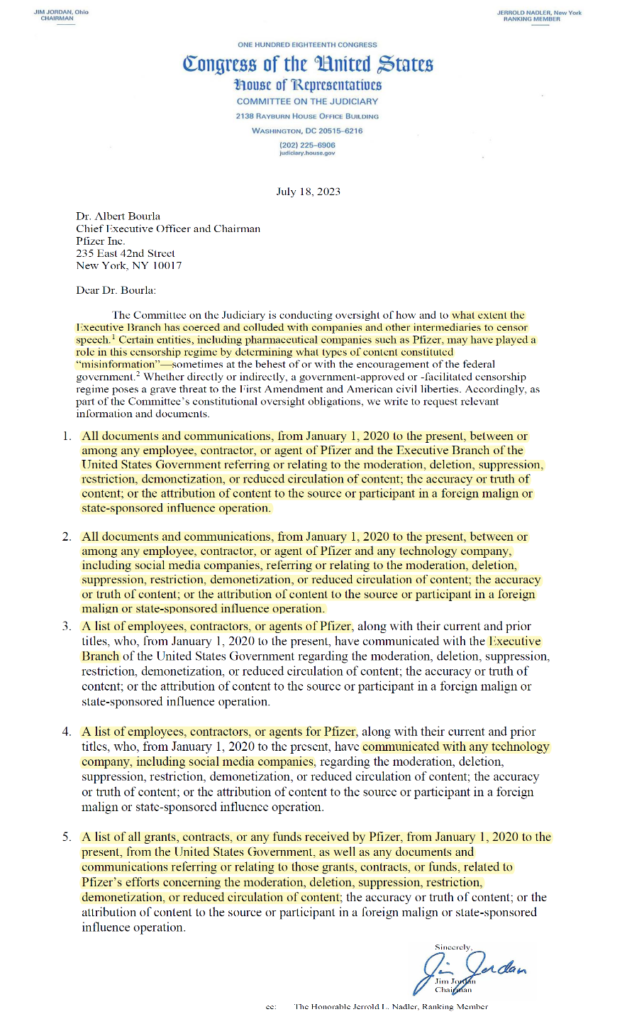 I imagine a Pfizer strategy that was anchored to the Trusted News Initiative dating back to December 2020 will emerge.
Overstate the lethality of COVID-19
Suppress any hope of early treatment
Downplay the role of natural immunity
Flood the zone with "safe and effective messaging" on COVID-19 vaccines
All should take the shots over and over every six months with no exceptions, no matter how many times COVID-19 was contracted or how severe the side effects
Squash any "vaccine hesitancy" arising from reports of vaccine injuries, disabilities and death
For sure Jordan is interested in former FDA Commissioner Scott Gottlieb and his influence peddling with Twitter to mute messaging on natural immunity as he was pushing mRNA as a Board member of Pfizer on national television.
Expect Pfizer will distract and delay on this request which has a deadline on August 1, 2023.
Subscribe to Courageous Discourse so we can continue to bring the truth.
Supported in part by the McCullough Foundation