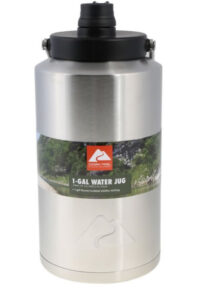 Public Service Warning!
Health Warning! This jug has a very serious design or engineering flaw.
Ozark Trail Stainless Steel 1/2 Gallon and 1 Gallon Water Jugs allow contaminated liquids to enter into your pure clean liquids. (Watch Video Below for Complete Explanation)
This jug made me very sick. These are sold at Walmart by Ozark Tail. The lids pour spout has an unsealed seam inside it that allows contaminated liquids to collect in the lid and then exit as you pour your clean fluids from the faulty container.
This is an engineering flaw that should never ever have happened.  These people should know better.  How many design engineers do you think looked this product over and never thought, hmm?  Could water leak out that seam inside the pour spout?  – This is very shameful of such a great profession. – Scott L. Prentice
This is an attempt to warn the public and the manufacture of pending warm to the public.
Model 803-018-0617 – 1 Gal.
Model 803-039-0717 – 1/2 Gal.
This video will remain until I have guarantees this problem is fixed and container lids are recalled.
Scott L. Prentice